---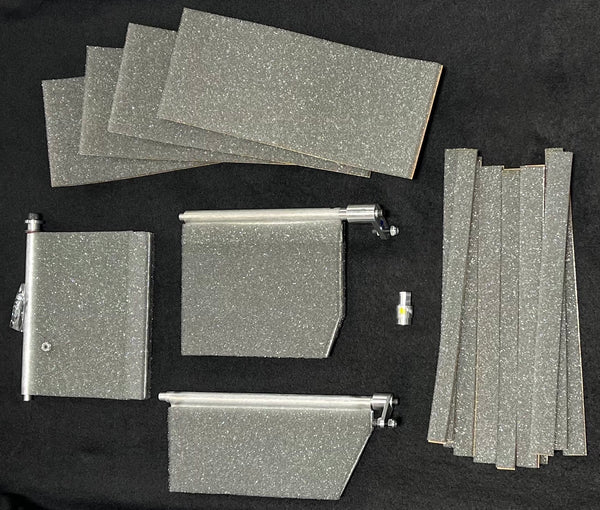 Note: The 2nd Gen Driver is included in this kit.
This is a complete kit to repair your 1994-2002 Ram truck. This kit includes new solid aluminum HVAC doors to replace the Recirculation Door, Panel Door, Defrost/Floor Door and a bracket to repair your original metal Blend Door. This is a complete repair kit that will eliminate all of the weak plastic components from your HVAC doors.
The OEM Blend Door is made of metal and does not break. However, it has a weak plastic driver that often fails.  Our kit will re-utilize the OEM metal door, but we include a CNC machined aluminum driver to replace the weak plastic driver.
The OEM Recirculation Door is made of plastic, but already has a metal arm on it that connects it to the vacuum actuator.  Our kit will re-utilize the OEM steel arm, but we replace the weak plastic door with a solid aluminum replacement door. 
All parts are manufactured in Michigan and are CNC machined out of solid aluminum. We proudly guarantee everything we produce for life. 
This kit fill fit 1994, 1995, 1996, 1997, 1998, 1999, 2000, and 2001 Dodge Ram 1500 trucks.  It will also fit 1994, 1995, 1996, 1997, 1998, 1999, 2000, 2001, and 2002 Dodge Ram 2500 and 3500 trucks.
Call for International Shipping Rates
Actuators are available through our partnership with Ram Parts USA. Click the banner below to visit the website.